Zalman ha sviluppato un nuovo tipo di sistema di raffreddamento per schede video, di tipo universal, che è compatibile con numerosi modelli di schede grafiche sia con GPU Nvidia sia con GPU Amd/Ati.
Il modello è VF 1000 Led, caratterizzato da un design molto vistoso e dall'utilizzo di rame nelle sue componenti, oltre di una ventola di generose dimensioni dotata di Led.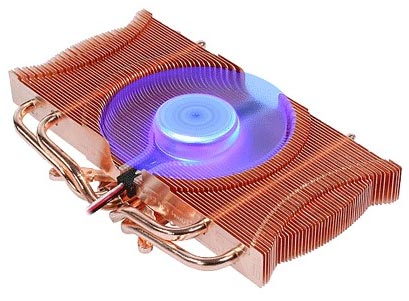 Caratteristiche:
The product is equipped with Zalman's patented VFP (Variable Fin Profile) technology. Fan installed inside the heatsink maximizes the cooling efficiency and the product's maximized dissipation surface area provides excellent performance.
Use of four high performance heatpipes maximizes heat transfer.
Pure copper thin fins (0.3mm) for excellent cooling performance.
Cools not only the VGA chipset and VGA RAM, but all other VGA components as well.
80mm Slim LED Fan for excellent performance and great aesthetics.
Newly improved installation structure provides easy installation and broad compatibility.
Adjustable fan speed controller(FAN MATE 2) enables control of noise and fan speed.
Does not generate noise or vibration in Silent Mode.
Specifiche Unità dissipazione:
Dimensioni: 160(L) X 80(W) X 30(H) mm
Peso: 380g
Materiali: Dissipation Fins : Pure Copper,
Base : Pure Copper, Heatpipe : Pure Copper
Specifiche Ventola
Dimensioni: 80(L) x 80(W) x 15(H) mm
Bearing Type: 2 Ball-Bearing
Velocità: (using FAN MATE 2) Silent Mode 1,400rpm ±10% Normal Mode 2,500rpm ±10%
Livello Rumorel: (using FAN MATE 2) Silent Mode 18dBA ±10% Normal Mode 28dBA ±10%

Queste le schede video con le quali è garantita compatibilià :
ATI X1600
ATI X1300
ATI Radeon 9*** (serie 9550/9600)
ATI Radeon X***
NVIDIA GeForce 4 MX
NVIDIA GeForce FX 5200
NVIDIA GeForce FX 5500
NVIDIA GeForce FX 5600 (FX 5700)
NVIDIA GeForce 6600 (no per modello 6600 AGP)
NVIDIA GeForce4 TI 4
NVIDIA GeForce FX 5700(Ultra)
NVIDIA GeForce FX 5800
ATI X1650
ATI X1600
NVIDIA GeForce 8600
NVIDIA GeForce 8500
NVIDIA GeForce 7600
NVIDIA GeForce 7300
NVIDIA GeForce FX 5900
NVIDIA GeForce FX 5950
ATI X1950 / X1900
ATI X1800
NVIDIA GeForce 7950
NVIDIA GeForce 7900
NVIDIA GeForce 7600
NVIDIA GeForce 7800
NVIDIA GeForce 6800
NVIDIA GeForce 8800

Per la 8800gts e 8800gtx/ultra è necessario acquistare un altro kit a parte per il raffreddamento RAM, FET e I/O chipset in particolare è necessario montare assieme al VF 1000 Led anche lo Zalman ZM-RHS88


Specifiche:
Dimensioni: 190(L)×98(W)×11(H) mm
Peso: 80g
Materiali: Alluminio